What is the Bruschetta? Think of it as a sliced toasted bread rubbed with garlic, topped with olive oil, salt and pepper.
When we say oil, we refer to our extra virgin olive oil, the one produced with olive trees cultivated throughout our fascinating peninsula called Italia. You can find cultivation of olive trees from South to North Italy and in every Region extra virgin olive oil acquires different flavor. In the South regions extra virgin olive oil has the strong taste of the fertile, solid but thirsty land well flooded by the sun. In the Central regions extra virgin olive oil gets its aristocratic aroma from the elegance of the hills and from the whispering breeze, while in the North Regions the light, quiet taste of extra virgin olive oil derives from the water if its lakes, rivers and sea.
Generally the Bruschetta required homemade bread but a fine slice of bread of the day can be right; put it in a pan and let it roast.
Now we show you one among tens ways of preparing Bruschetta: they say that Bruschetta makes you fly your imagination and it is true because you can eat Bruschetta with several different ingredients, as your taste!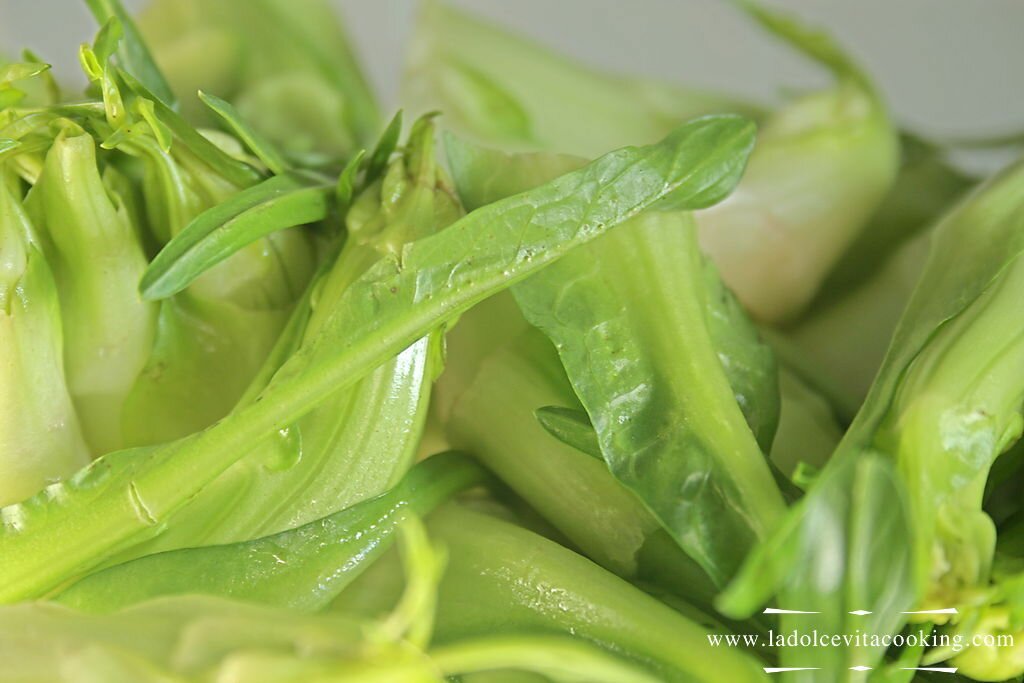 Ingredients of the Bruschetta with Roman cicory
bread;
1 package of Roman chicory;
1 clove of garlic;
4 anchovy fillets;
extra virgin olive oil;
wine vinegar (or lemon if you prefer);
salt;
pepper.
Preparation of the Bruschetta with Roman cicory
Wash the chicory and leave it to soak in cold water for about an hour.
Meanwhile beat in the mortar garlic, anchovies, extra virgin olive oil, vinegar, salt and pepper.
Drain the chicory, dress with the sauce and place on the roasted bread the seasoned chicory.
If you do not have the mortar, you can put the ingredients for the sauce in a bowl and use a soup spoon or a fork like a pestle (as I usually do).
Your Bruschetta is ready: buon appetito!